Yes, yes....indeed we all did party hard on Saturday, it seemed like it was every one's birthday and they all threw hectic parties.
Me and my peeps tried to hit as many spots as we could that night....most of them quite late. (I didn't get in till 8.30AM!)
We started off with some food and shisha (before the smoking ban kicked in) then we eventually got to Daisuke and the Twin's (Gaby and Pavlina) 80's/90's fancy dress birthday bash...which (we heard) was off da hook! Until some eeeeediots decided they wanted to try kill each other and the place was shut down early.
(booooo!...."TAKE IT OUTSIDE!")
So, in our back in da day get up and after a few checkpoints, loads of us headed to RADI and SINDEN'S where we all got down like it was 1989!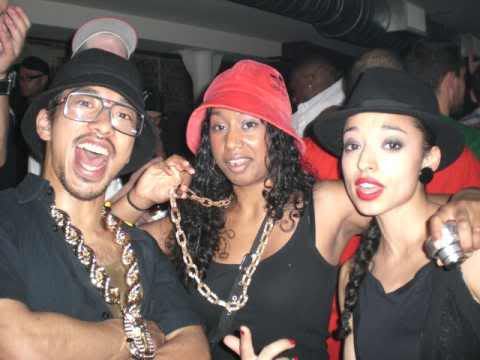 Picture courtesy of Leon Sua: Bboy Kengo managed to out-bling me with his heavy (literally) gold chain while my girl Naima did her best Sade impression....or was it Mel and Kim? Speaking of....
REMEMBER MEL AND KIM!?!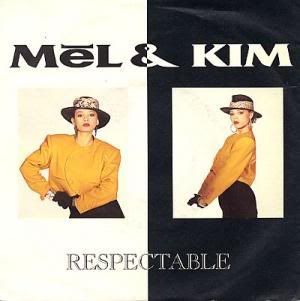 "Tay, Tay, Tay, Tay...Take or leave us, only please believe us, we ain't never gona be respectable!" I won't go all the way into it, but Respectable was one of our fav tunes (i rinsed it, hung it out to dry, then rinsed it again!).
Melanie and Kim Appleby were one of the best things to come outa London in 1985, produced by Stock Aitken Waterman, they had a string of top ten chooooons and by combining street style with high fashion, they kept it funky fresh.
Unfortunately, when the likes of Kylie and Rick Astley came along, Stock Aitken Waterman started focusing more on them (eeeeediots!).
Mel and Kim kept on keeping on, until Melanie began suffering from cancer of the spine, chemo weakened her immune system and pneumonia took her away from us.
Kim Appleby did her solo thang until 1991 (remember "Don't Worry?").
Anyways....let's not forget what they brought us before their untimely end.
Big birthday blessings to all.
much love
peace.x